Extraordinary customer experiences, effortlessly
Instantly elevate your customer experience with our turnkey solutions for real estate, insurance & local government.
Our easy to set up no-code configurable modules, pre-trained conversation flows and partner ecosystem, and quick onboarding deliver immediate value
White label web app with custom assistant, domain, branding and notification templates
Intelligent AI conversations in natural language deployable across multiple channels and telephony platforms (web, voice, teams, Lex, assistant, WhatsApp)
Multiple language live translations and updatable glossary specific to your organisation
Off-the-shelf, domain specific conversations to deliver immediate value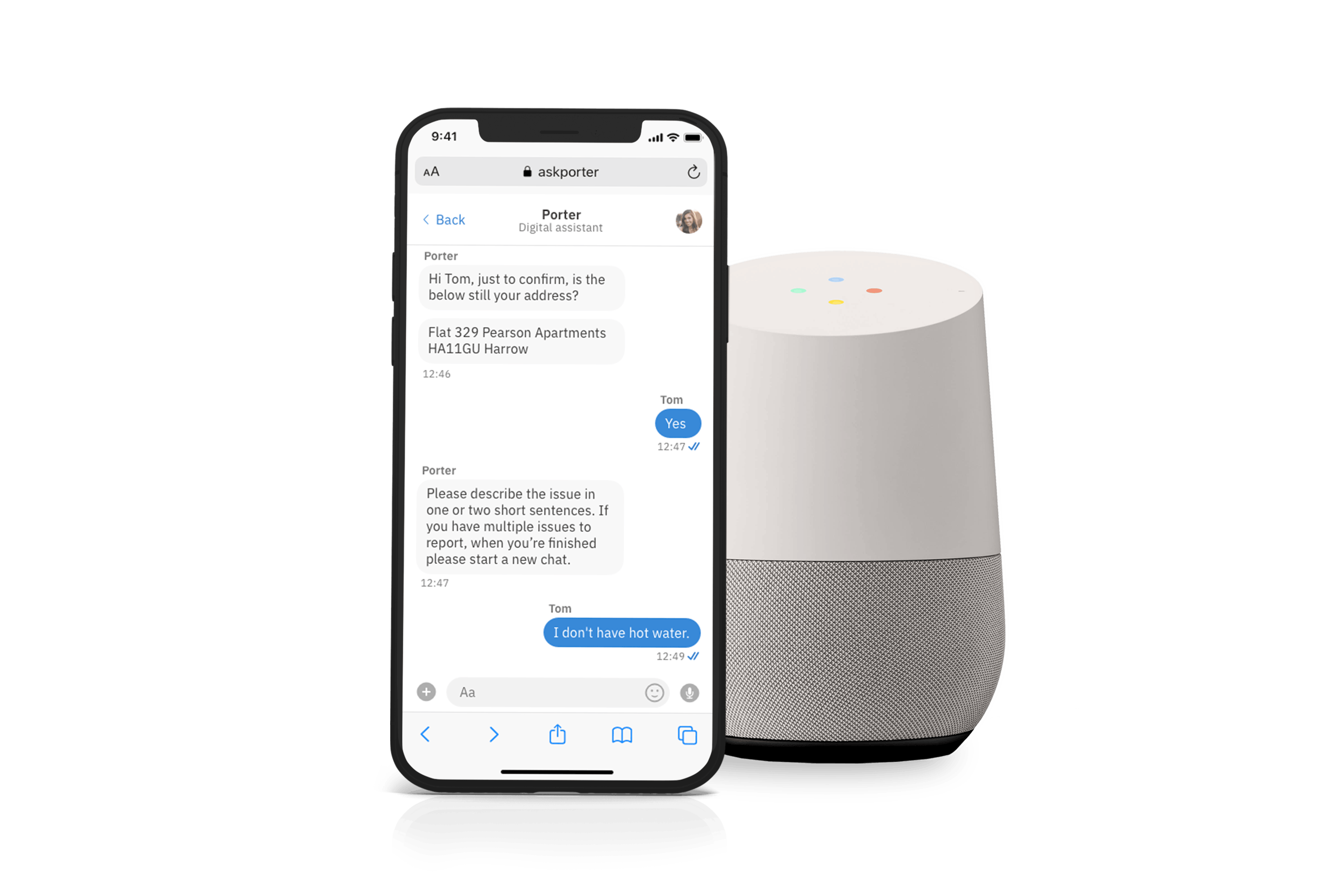 Find out more about our

Digital assistant
Manage any asset type from a residential apartment to a park bench using our no-code extensible data model. Link to the real world through QR codes
Enable requests to be captured, prioritised, assigned and progressed through to completion autonomously with customisable task automation and team assignment rules
Benefit from off-the-shelf activities such as e-sign, work-order management, appointment scheduling and ID verification. Create specialised tasks to suit any business process using a low-code framework
Configure full-feature user administration with a role-based, enterprise security model - by organisation and by team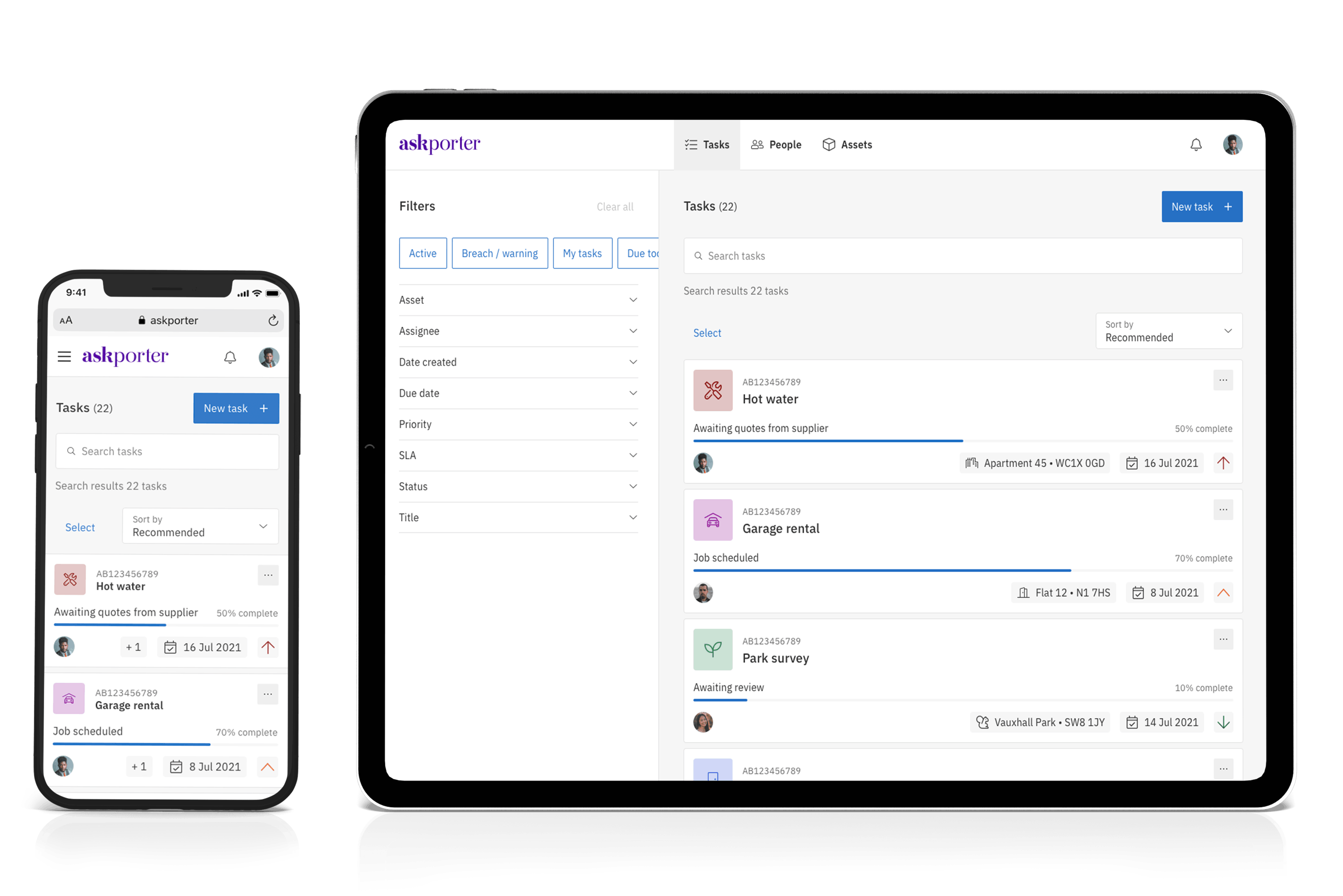 Find out more about our

AI management platform
Track your business-critical workflows in a dashboard that's loaded with precise, real-time data and full audit history of activity for compliance
Integrate your existing systems with ease using our well-documented open API
Connect askporter with your IoT Gateways for sensing and driving proactive, automated actions
Be part of a growing ecosystem of industry-leading partners and integrations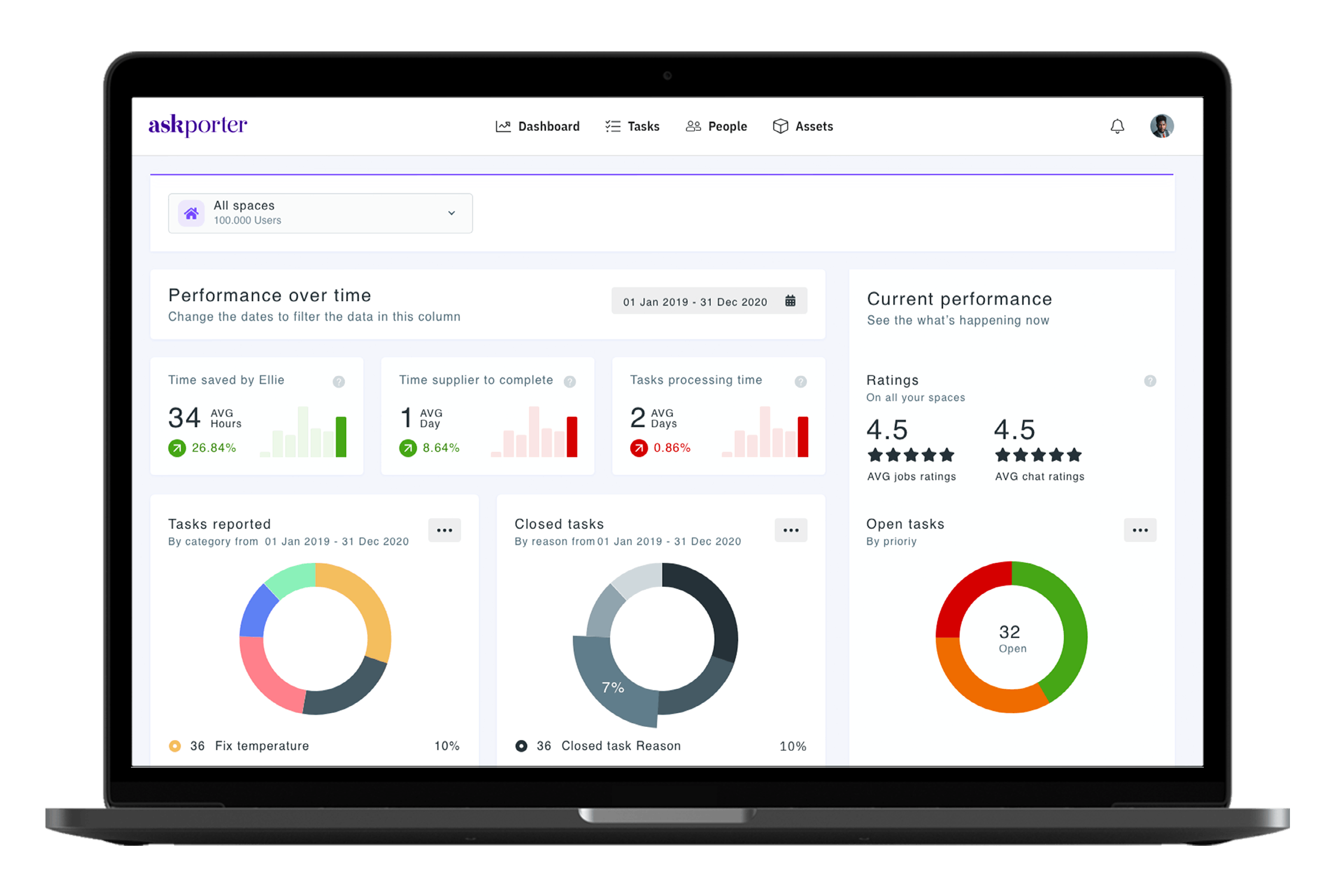 Find out more about our

Insights & automated actions
How could we transform your workflows?
98%
Garage rental time saved by Lambeth Council
Our automated, end-to-end rental solution reduced the average time taken to book a garage as a Lambeth resident from one hour to just 70 seconds.
"Working with the AI assistant, I can see that it gets smarter day by day and with every new request it eases my workload."

Laura Billo, Property Manager - WISAG

"This is so simple to use - it's what every interaction with the council should be like."

Lambeth resident
Get a solution that enables you to manage your assets autonomously
Unlike most, our automation is intelligent, but more importantly, it can work how you need it to with modular features such as:
A personal AI assistant to ensure customers get what they want, fast
Highly capable & intelligent assistant connected to the data to can actually get stuff done
A single platform for your assets, customers, suppliers and tasks
Intelligently automate your operations with no-code workflows
Easily setup and manage agreements & payments
Get actionable insights from across your organisation
Unlock value from our growing partner ecosystem
Get in touch to find out more
Are you ready to deliver amazing customer experiences and transform the way you deliver services?
We'd love to hear about your challenges and explore opportunities to solve them together.
Book your free discovery call